All activities should be supervised by an adult. As an Amazon Associate, I earn from qualifying purchases. This post may contain affiliate links.
Campfire crafts are Popular crafts to do during the summer season.  So many people use campfires to cook food while camping but they're actually far more useful in winter to keep us warm outdoors.
So here is our Fork-Painted Campfire craft as part of our Winter Activity series.
Moreover, this fork-painted craft is absolutely suitable for Indian Festival-themed Activities like Holi and Pongal where they make bonfires as part of the celebration.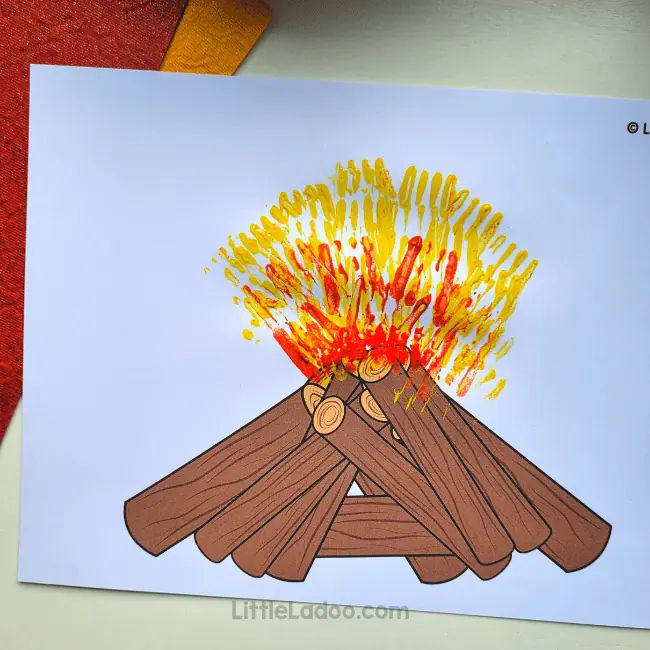 This post contains affiliate links, meaning that I will be compensated if you click through and take action at no additional cost. As an Amazon Associate, I earn from qualifying purchases.
Fork-Painted Campfire Craft
This Craft is a super-Easy for kids. You can either make it with the Campfire template or draw logs and paint above them.  The free template is available at the end of the blog post.
Supplies you will need
Directions to Make a Campfire Craft
Download the templates and print them on cardstock. I always recommend the thick paper for any painting activities as the regular printing pager (80 Gsm) will easily soak when painted.
Dip a fork in yellow paint and press on paper above the wood logs and continue pressing around to make a fire. 
Use Shades of Orange and Red for more variation. Once done, Leave it to dry for 10 Minutes.
Your campfire craft is ready! It is hard to believe that it takes just a minute to complete one.
To save this craft for Later, Pin this image.
This is a perfect activity to do at any time of the Year, however, it is a right fit to include in one of the following themes
 Winter Theme – People make campfires outdoors to keep themselves warm.
Summer theme- To cook food during camping, people use campfires.
Holi Festival –  Bonfires (Holika) are lit as part of the celebration.
Pongal Festival- To burn unwanted things, people make Bonfiresas part of the Bogi celebration.
So are you ready to make this Fork-Painted Campfire craft? Download the template at the end of the post!
Download the Campfire Template
Just click on the button below to download the free craft template
Similar Easy Fork painting Crafts for kids