Alphabet matching activity for Toddlers with Fall Leaves
Looking for ideas to use the vibrant fall leaves to make activities for your toddlers? Try this Fall leaf Alphabet matching activity.
This activity is so easy to create and the child will love to match alphabet leaves on their place in the cardboard.
This post contains affiliate links, meaning that I will be compensated if you click through and take action at no additional cost. As an Amazon Associate, I earn from qualifying purchases.
Fall leaf Alphabet Matching Activity
Kids start learning the Alphabet with ease when they are exposed to a variety of learning methods. Apart from teaching with Posters, Flashcards and books,  Another effective way to learn alphabets are through hands-on activities.
So If your toddler doesn't show interest in Alphabets, you need to try this hands-on activity. It help kids with letter recognition in an effortless way.
Things needed to set up this activity
You literally need nothing more than a cardboard sheet and a Marker pen to make this activity. Let the child gather some Fall leaves from around. We need exactly 26 leaves and they can also be in different sizes, colours and shapes.
We have collected some Palm-sized leaves from the cherry tree from our street. Ours are Reddish-brown leaves. If you could fetch yellow colour leaves, that would be even more effective. Because the Alphabets would be clearly visible on the yellow leaves.
Hove to make a Fall leaf Alphabet matching game
What is your child currently practising? Uppercase or Lower case? Or both? You can create this matching game in Whichever way you need to make it challenging for your child.
We did uppercase to uppercase Alphabet matching. So here is how to set it up.
First, Let's start by preparing a leaf template out of cardboard. Use a leaf as a reference to draw it and cut it out using a cutter.

Now you can use the cardboard template to draw outlines of 26 leaves on the cardboard base. Just draw them randomly on one or more sheets of cardboard. Also, fill each leaf on the Cardboard with letters randomly or in order.

The next step is to write the letters on the leaf. A bold marker would be perfect. As you see in the image below, the letters in orange leaves can be seen easily and will be easy for the child to identify. So go for Yellow or Orange Fall leaves to create this activity. 
We used three sheets of cardboard and have written letters in order. The activity is ready! Place the Leaves next to the board or in a tray and let the child match them up.
To make the activity more interesting, hide the leaves all around the house and let the child hunt the treasure and put it in the right place on the cardboard.
Did this like this idea? Let me know in the comments section.
Please share it with your friends who are teaching Alphabets to their children.
Pin this Alphabet matching activity
Don't forget to save this Fall leaf alphabet matching game for later! Be sure you are following Little Ladoo on Pinterest for fresh awesome ideas and fun educational printables.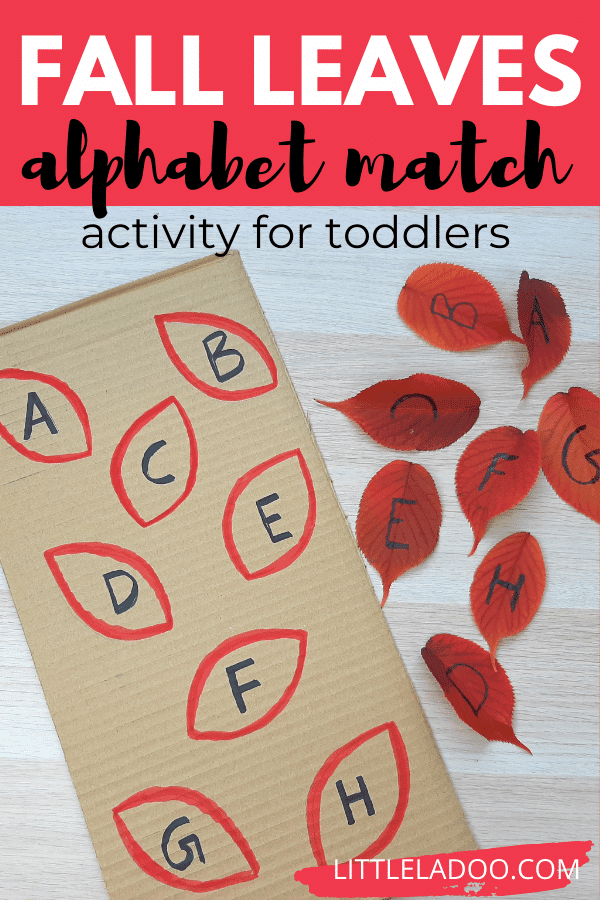 If you like printable activities, Check out this alphabet matching game printable
Related Fall Activities
Simple Toddler Activities
Thank you for reading through this post!! If you found this helpful, please let me know in the comment section because I would love to hear from you!