All activities should be supervised by an adult. As an Amazon Associate, I earn from qualifying purchases. This post may contain affiliate links.
If your little ones adore Elmer, then you won't want to miss out on this delightful Elmer craft for Kids. Not only is it incredibly easy to do, but the result looks just like the beloved character from the books.
Elmer the Patchwork Elephant has captured the hearts of children worldwide with his message of embracing uniqueness and celebrating differences.
We have personally enjoyed reading over 10 Elmer books so far and we're always eager to discover new titles at the library.
Related: Elephant Facts for Kids
A Closer Look at the Elmer Book Series
For those who are new to the Elmer books, they are wonderful stories for preschoolers written by David McKee. With over 30 titles to choose from, each page features vibrant illustrations paired with short sentences that captivate young readers.
Each book features Elmer and his animal friends as they encounter new challenges and learn important life lessons, all while having fun and enjoying their colourful world.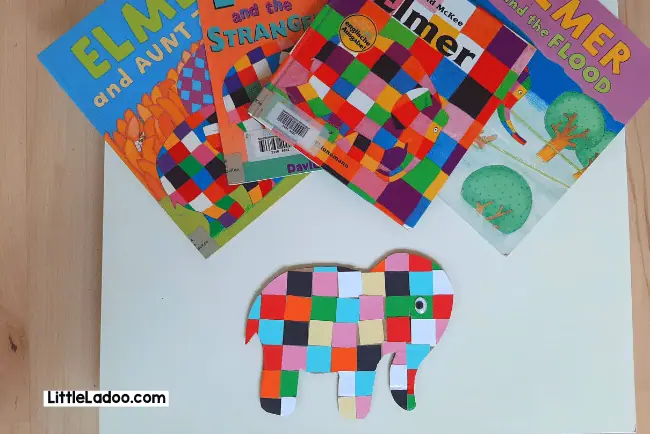 From Elmer's Patchwork Parade to Elmer and the Lost Teddy, the Elmer books are a timeless classic that continues to inspire and captivate young readers.
Here is a Summary of the First Elmer Book, 1989
Elmer, a bright and colourful patchwork elephant, longs to be like the other grey elephants in his herd. He sets off on a mission to make himself grey and succeeds in his endeavour. However, he soon realizes that being different is what makes him unique and special.
This heartwarming story teaches children the importance of embracing their differences and being true to themselves.
Each book in the Elmer series offers valuable moral lessons that are perfect for young readers.
To make our storytelling sessions even more engaging, we decided to create this Elmer craft with cardboard to accompany our future readings of the series.
Elmer Crafts for kids
Creating an Elmer, the Patchwork Elephant craft is a fun and easy activity that is perfect for children of all ages, including toddlers, preschoolers, and kindergarteners.
I have also shared this downloadable Elmer template at the end of this post, so you'll have everything you need to get started on your very own Elmer craft project.
Things you will need to make an Elmer Craft
A cardboard sheet
A cutter or cutting mat
Colour papers in a variety of colours to create Elmer's patchwork design
A glue stick
Googly eyes to give Elmer a fun and whimsical look
Directions
To make the Elmer the Patchwork Elephant craft, begin by downloading the Elmer Printable template and using it to cut out a piece of cardboard using a Cutter on a Cutting mat.
Next, cut out 2cm x 2cm squares in at least 8 different colours using a paper Trimmer to cut long strips of paper.
With the preparation complete, it's time to invite the child to do the craft!
Kids can independently apply paper glue to the cardboard elephant shape and attach the colourful squares to it. Adults can offer minimal assistance during the process.
Make sure that adjacent patches are in different colours. This makes the activity interesting. My daughter was just 2 years old when she joined this Crafty fun and she loved choosing colours.
Once the colourful patches have been applied to the cardboard elephant shape, flip it over and use scissors to trim any excess paper from around the edges. Then, add a large googly eye to complete the craft project.
At the end of the activity, you will have an adorable Elmer the Patchwork Elephant craft to display.
Children can bring Elmer to life with this easy craft project that allows them to create their very own patchwork elephant!  Whether it's a rainy day activity or a party favour, Elmer crafts are sure to delight and inspire children of all ages.
Have fun making your patchwork elephant!
More Elmer Book Craft Ideas
There are indeed many other interesting elephants in the Elmer books that can inspire more craft projects. You can use the same template and modify the colours and patterns to create different characters.
For example, you can make Wilbur the black and white elephant by using black and white squares instead of colourful ones.
Or you can create other elephants from the Elmer books, such as Super El or Rose, by using different colour schemes and patterns. The possibilities are endless, and it's a fun way to explore creativity with your child.
To save this Craft for Later, Pin this Image.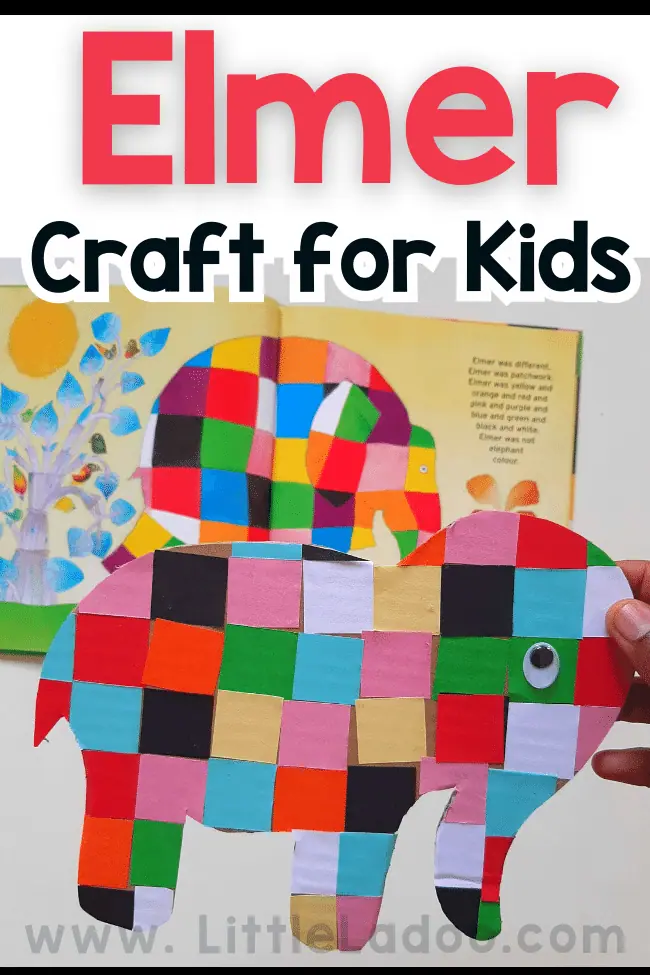 Similar Book-Inspired Crafts
Buy Elmer Books
12 Classic Picture Books Collection Set

A collection of five of Elmer's best-loved tales, bound together in a beautiful hardback
Listen to 10 Elmer Stories with Elmer Tony
Elephant Activities for Kids
Download the Elmer Craft Template
Ready to get your Free Printable to Make this Elmer Craft? Fill in the form below to secure it in your inbox!