All activities should be supervised by an adult. As an Amazon Associate, I earn from qualifying purchases. This post may contain affiliate links.
Whether you're planning a family gathering or just looking for some fun Easter-themed activities, These Easter Would you Rather questions for kids are sure to be a hit.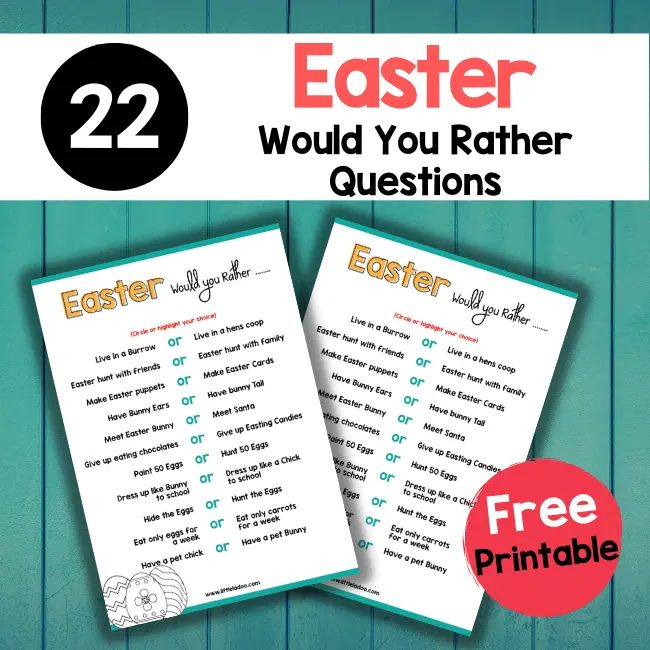 Would You Rather Questions for Kids
"Would you rather" questions are a fantastic way to engage and entertain kids of all ages. This post features 22 Easter-themed questions that are perfect for kids!
The questions are designed to be short and easy to understand, so even young children can participate. Whether you're on a road trip, at a family gathering, or simply enjoying dinner together, these questions are a great way to spark conversation and have some festive fun.
22 Easter "Would you rather" Questions for kids
Would you rather have an Easter egg hunt in the park or at home?
Would you rather have Bunny Ears or Bunny Tail?
Would you rather make Easter cookies or Easter cupcakes?
Would you rather eat a chocolate bunny or a chocolate egg?
Would you rather find Eggs with candy or Toys?
Would you Rather Dye Easter eggs or Bake Easter cupcakes?
Would you rather make an Egg Garland decoration or a Bunny garland decoration?
Would you rather have a Pet chick or a Pet Bunny?
Would you rather have an Easter egg scavenger hunt or a treasure hunt?
Would you rather go on an Easter egg hunt with friends or family?
Would you rather participate in an Easter egg decorating contest or a cupcake decorating contest?
Would you rather Visit a chocolate factory or Candy Factory?
Would you rather hop like a bunny or waddle like a duck
Would you rather live in a Burrow or live in a Hens coop?
Would you rather make Easter crafts or Easter cards?
Would you rather eat only eggs or East only carrots?
Would you rather hide the eggs or hunt for the egg?
Would you rather have Bunny teeth or chicken Beak?
Would you rather meet the Easter Bunny or Santa?
Would you rather give up eating chocolates or Candies?
Would you rather Paint 50 eggs or Hunt 50 Eggs?
Would you rather Dress up like a Buddy or Chick to school?
What better way to get everyone in the Easter spirit than these 'would you rather questions for kids?  So Grab your Free printable Would You Rather Easter Edition for kids and be ready for the best holiday party.
Save this Post to come back later by pinning the image
Get the printable
Just click on the button below to download the Easter "would you rather" printable.   Have fun!
Note that these are only for Personal use at home or in a single classroom.
We also have a Similar Would you rather Printable for Christmas.