All activities should be supervised by an adult. As an Amazon Associate, I earn from qualifying purchases. This post may contain affiliate links.
These Free Easter Worksheets are Perfect for Toddlers and Preschoolers to have Fun Learning during the Easter holidays. It includes a Few colouring pages too!
See what's included in the Printable Pack and download it at the end of the Post.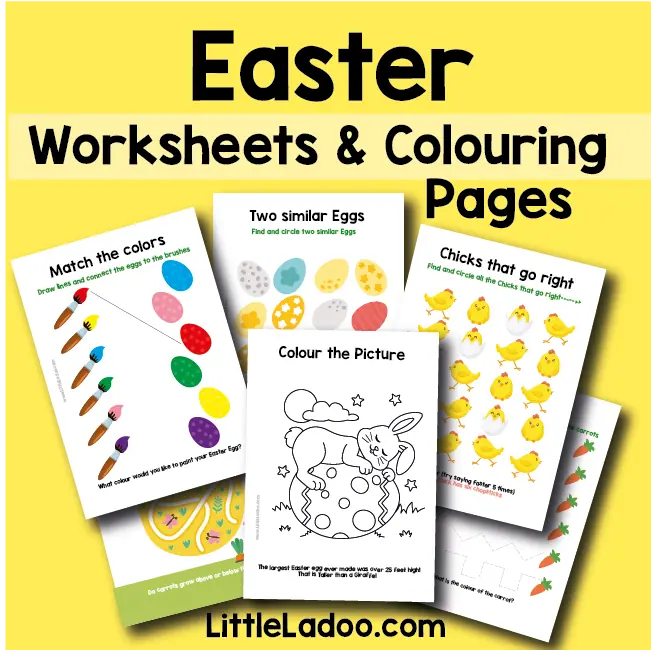 This post contains affiliate links. As an Amazon Associate, I earn from qualifying purchases.
Free Easter Worksheets
These Worksheets are Designed specifically for Young kids who just started to scribble with Pencil. The worksheets require them to Understand Basic instructions and Draw a Line/Circle.
These Worksheets Help Kids with Visual Discrimination, Spatial Skills, Problem Solving and Pen control. Colouring pages are great for kids to improve motor skills and Stimulate Creativity!
Use the Worksheets Multiple Times
To use the Worksheets Multiple times in Classrooms, you can do one of the Following and Use Wipe Erase Pens
Laminate the Worksheets. (I recommend Amazon Laminator)
Insert the Pages Inside Clear Page Protectors
Insert in Dry Erase Pockets

As you see in the Images above Both are similar, but Clear Page protectors are very thin and are great to organise in a Ring-binder. The Dry erase Pockets on the other Hand are very thick and can be used unaided.
At home, we print the Pages on Thin paper for One-time use.
What's included in the Easter Worksheets Pack?
Here is a list of Activities with Pictures of the worksheets
Match the Shapes
Find Two Similar Eggs
Solve the Maze
Match the colour
Match the Shadow
Find the chicks that go right
Copy Pattern
Find 3 Differences
Find the odd one
Count the Eggs
Trace the lines
And 6 Easter colouring pages!
That is all of the 16 Pages! Alright, Ready to Engage your Toddlers and Preschoolers with these Easter Worksheets?
Download Your Free Easter Worksheets PDF
Sign up for this form and I will send the Easter Worksheets PDF straight to your Inbox

Printable is only for Personal and Single Classroom use.
Do you think your friends might like this? Share this Blog using one of the following Social media.
Pin this Easter Worksheets Pack!
Don't forget to save this Free Printable for Next Easter! Be sure you are following Little Ladoo on Pinterest for fresh awesome ideas.
You might also like