All activities should be supervised by an adult. As an Amazon Associate, I earn from qualifying purchases. This post may contain affiliate links.
Easter is an exciting holiday filled with fun and memories. There is no better way to capture those memories than with a Creative Easter Handprint Art project!
This post contains affiliate links.  As an Amazon Associate, I earn from qualifying purchases. 
Easter Handprint Art
This Handprint art is a Budget-friendly way to gift handmade cards to your loved ones. Best of all, It is Easy, fun and a Memorable Activity to do with little Kids!
With the help of these fun printable designs, you can easily create keepsakes that will immortalize your child's little hands for years to come. Whether it's a bunny, chick or even eggs, these Easy-to-follow printables provide step-by-step Instructions to make unique and colourful works of art.
Supplies you will need to make Easter Handprint Art
The affiliate links here will take you to products on Amazon that are similar to the supplies we used to make this craft:
Watch a Video of us Making Easter Handprint Art with the Printable
Whether you are making Easter Greeting cards or Easter Keepsakes, Let me show you how to make these Easter Handprint Art Prints
How easy was it? So the Easter printable Pack shown in the video can be purchased in our Printable Shop. We also Have a Mother's Day Handprint Art Pack and Spring Handprint Art Pack in our Shop.
Directions to Make the Easter Handprint Art
You don't need to be an artist to make these Handprints! The majority of design work has already been done and it is as simple as making potato stamp art! You get the result you see here with your child's handprints. It's so effortless!
Read on to learn Instructions with step-by-step pictures!
Step 1: Download the Handprint Art and Print
There are 8 Easter designs in the pack featuring Bunnies, chicks and Eggs. Print the ones you need.
We printed on 120 GSM printing paper.
If you plan to make handprint greeting cards, Print them on cardstock or photo paper.
Step 2: Paint the Child's Hand
With the sheets ready, Paint the Child's hand with Washable and Toxic-Free Tempera paint. We always use Crayola Washable paints.
A big-size Brush can speed up the process.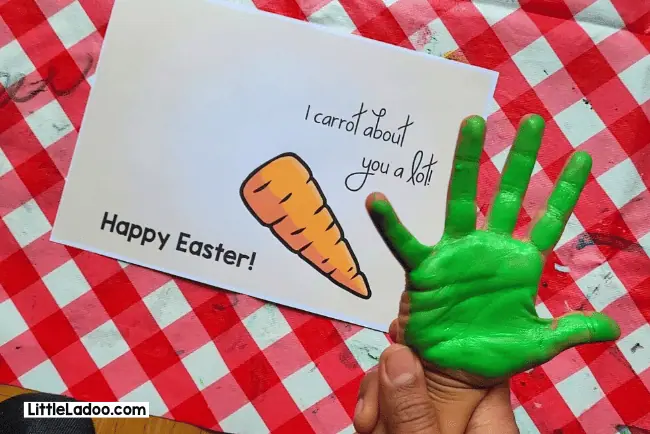 You can also use a Circular stamp pad if you want to cut the Painting Part!
A Toxic-free Stamp pad set with all colours is very expensive. However, these can save time and effort to a great extent.
Step 3: Make handprints
Before the paint dries, quickly and Firmly press the hand over the sheet. Press all over the hand including Fingers and remove the child's hand from the paper.
Your Handprint art is ready!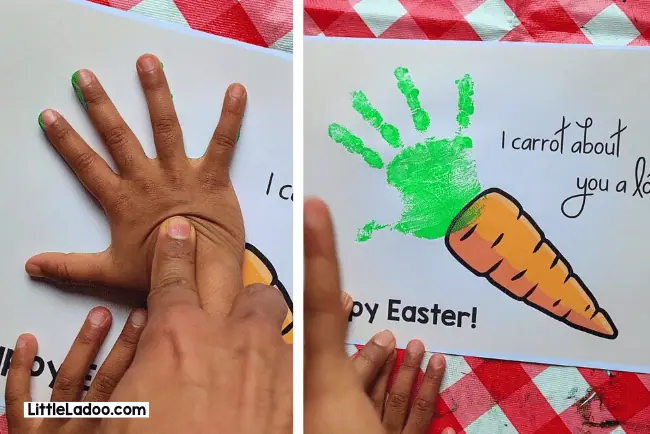 Let the sheets Dry so you can add details with markers if necessary! The bunny and the chicks need face features.
For personal Touches, add the Date and Name!
There are some designs to capture a child's footprint! Let the child sit on a chair so that painting on feet is easy! Repeat the Process as we did the handprint craft!
To be honest, Footprint crafts are not as easy as handprints and can get messy. So If you want to avoid footprints just use handprints for the same designs.
So this simple holiday Activity is a great way to make Keepsakes or a DIY greeting card that kids can gift to their loved ones. Perfect for both home and classrooms!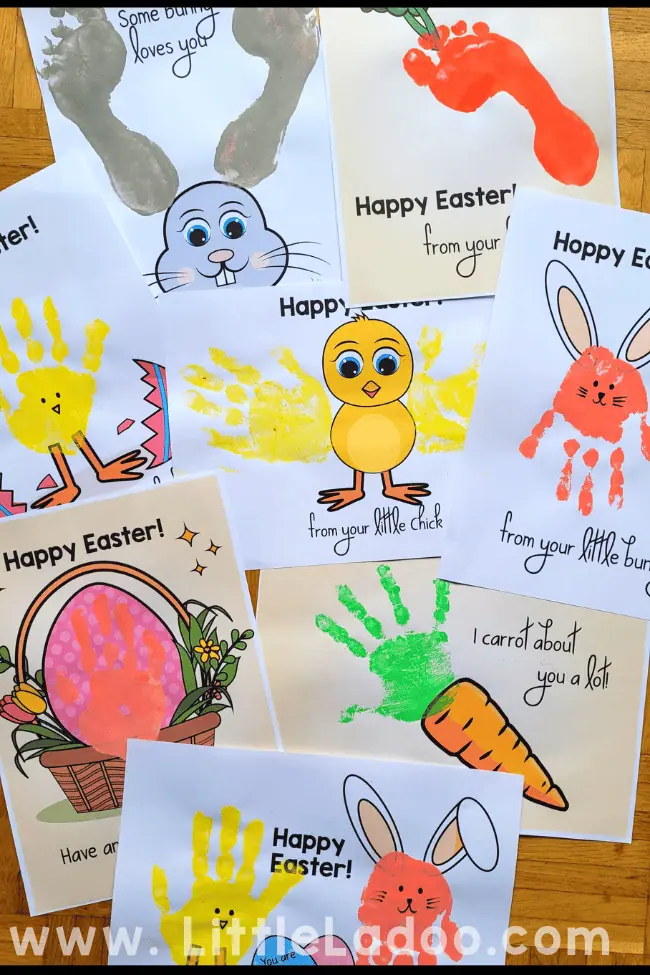 Get the Easter Handprint Art Pack
The Printable is available in both A4 Size and US letter size. You will be able to instantly download 8 Printable pages after purchase!
Enjoy making memories!
Tips and Tricks to Avoid a Mess
Painting with kids can be a lot of fun, but also a lot of mess. Before you start, it's important to think through how to avoid the mess that often comes with painting projects.
Here are some tips on how to keep your space clean while still enjoying art time with your kids.
First and foremost, lay down some newspaper or plastic drop cloths in an area where the paint won't damage any furniture or flooring.
Have a wet towel or Paper around to wipe in case any accident happens.
While making handprint crafts, wash your hands before using a new colour
If you like this Handprint art, Make sure you also check the Easter name craft for kids 
Similar Easter Printables
Similar Handprint Art Packs