All activities should be supervised by an adult. As an Amazon Associate, I earn from qualifying purchases. This post may contain affiliate links.
Looking for Easter Egg Templates and Ideas for a fun Holiday Project? Here are Free Printable Easter Egg Templates that are great for Kids to draw Patterns and colour.
Download the Egg Template at the End of the post. It has Egg templates in 3 different sizes. Kids can even use the medium Size Template for writing projects and making a Book.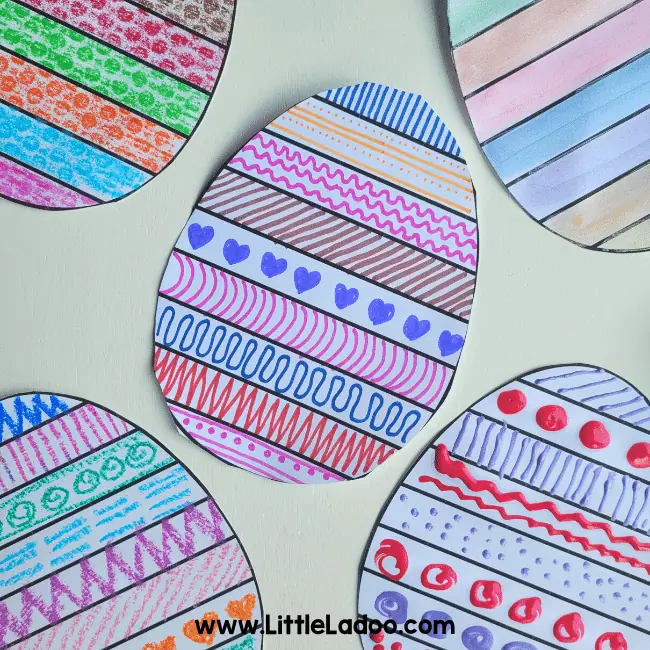 This post contains affiliate links. As an Amazon Associate, I earn from qualifying purchases.
Easter Egg with Stripes – Art Ideas
There are Plenty of Fun Ideas to create adorable Easter Eggs with this Template. In this blog, I will Share a Few Ideas that we did with these Egg Templates.
Check out the Below Picture and pin it! I have written a Brief Description of each of these Art!
Draw Patterns with Felt Pens!
Draw Patterns with Oil Pastels
Draw Patterns with 3D Puffy Paint.
Colour the Egg with Oil Pastels with a texture sheet in the Background

Watercolour paint
You can cut the Eggs out after completing the Art. Stick them on Windows or Make a garland!
Here are some more Ideas:
Salt Art
Washi Tape Craft
Add pulses / Small Stickers on each Segment and make 3D crafts.
Love these ideas? Please Pin this blog for Later and Share it with someone who might find this useful!
You might also like Easter Egg Symmetry Painting
Click the button below to download the Easter Egg Template and print it.