All activities should be supervised by an adult. As an Amazon Associate, I earn from qualifying purchases. This post may contain affiliate links.
Easter is coming up soon, and it is the perfect time to do all the Egg-themed Activities.
Today, I am sharing this two-piece Egg Puzzle Idea for Toddlers and a Free Template to make your own.
The puzzle you see in the picture here is made of Felt, but you can do the puzzle with four alternatives.
This post contains affiliate links. As an Amazon Associate, I earn from qualifying purchases.
Easter Egg Puzzle
When you introduce Puzzles to your toddler,  it is best to start with a simple two-piece Puzzle like this Easter Egg Puzzle. Puzzles are a powerful tool to improve the Visual Perception skills of Young kids.
This Egg Puzzle Set has seven eggs in different colours, and each egg is a combination of two parts. As these are very small and handy, this can also be a great Busy Bag idea.
How to Make a Felt Egg Puzzle?
Each piece of the Puzzle piece has 3 Layers – 2 layers of Felt and a layer of foam sheet. Felt and Foam together are very rigid will last long.
The main advantage is that it is easy for toddlers to grasp the piece. 
Things needed 
Directions
With our template, you can make 14 different pieces (7 Eggs x 2 pieces).
First, cut out the Template piece from the printables
Place it on the felt sheet and cut two parts of each template
You also need to cut a Foam sheet which needs to be slightly smaller than the felt piece.
Place the Foam piece in between the two felt pieces and sew around (Use blanket stitch)
Repeat the process for the rest of the pieces.
Please watch the video till the end to see how to make the three-layered Felt Egg.
Felt is a very enduring material, and this is one of the most durable and efficient ways to do a puzzle for a toddler. It has been two years since I did this puzzle, But it is as good as new even after multiple usages.
How to play
Arrange them randomly on a plain surface and Encourage your kids to look for the pieces and then match them together to complete the egg.
This activity helps to exercise their Visual Discrimination skills and spatial skills. Kids also learn colours and develop fine motor skills, focus and concentration.
If you want to make it challenging, You can make it as 3 or 4 piece puzzles.
Easy alternative methods to do Egg puzzle
Even though felt puzzles last long, DIY is very time-Consuming. So I am sharing a few other ways to do a similar puzzle using our free printable template.
So these are the four methods to do an Egg puzzle when you do not know sewing, and It will not take you so long.
1-Thick Eva Foam sheet Egg puzzle
It is effortless to work with Foam. Simply use the template to cut the pieces out of 3mm Eva Foam.
2-Laminated Egg puzzle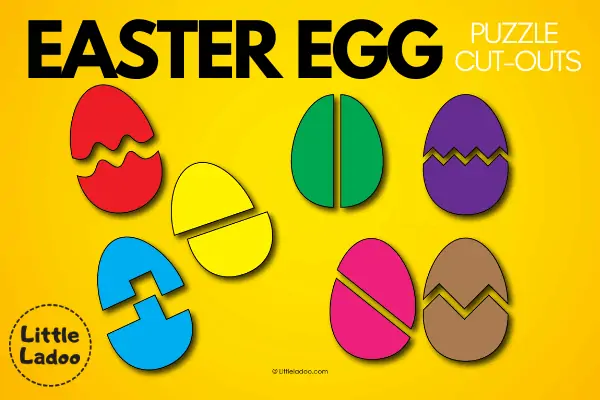 I have included a page with coloured eggs in the printable, which you can print, Cut out the Egg pieces, Laminate them, and Cut again. Please watch my Youtube video on two ways to make Laminated Cut matching pieces. 
3-Thick felt Egg puzzle:
You can use Stiffened thick Felt of 2mm or 3mm to do these egg puzzles.
4-Cardboard Egg puzzle:
Mark the Egg template on the cardboard, place it over the cutting mat and cut using a cutter. You can also cut using a scissor if it is thin cardboard.
It is essential to choose something that you are comfortable making.
Whichever one you choose, Please be very precise while cutting, or else there might be gaps when the child fits the two pieces together.
How to download the free template:
The free printable template includes Black and White outline pages and Coloured templates (To make laminated egg pieces). Get all these delivered straight to your inbox by signing up here.

I hope this will be a great addition to your kid's toys. Have fun DIYing:)
Related Easter Printable activities
Related Felt ideas
Related Printable Busy bags: