Challenge your child with our Easter Egg Busy Bag Printable! It is a very easy-prep activity and perfect for Pre-schoolers to work on their critical thinking and perception skills.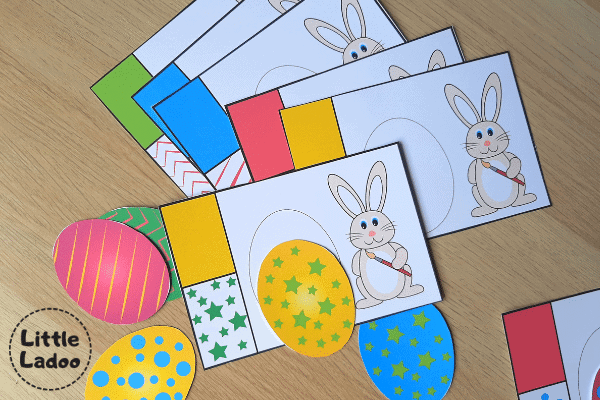 So what is a busy bag?
A Busy bag is a sealable bag containing small things that can keep Toddlers/ Preschoolers entertained during travel or at the doctor's clinic.
We love busy bags, however, we use these only at home. Here are a few Printable busy bags that I created. All these are free printables; please visit the blogs to download them.
Easter Egg Busy bag Printable:
There are 12 base cards and  12 matching cards. So the child has to study which matching piece (the egg) has the same pattern+ colour and match it to the base card.
This Hands-on Matching activity helps to improve their critical thinking skills, focus, concentration, hand grasp and visual perception.  
Preparation
Download the printable
The PDF has 4 pages that you need to print and make 12 + 12 cards.
Print them on cardstock using high-quality Printer settings.
Cut all the cards along the edges.
Cut out the matching pieces (The eggs). You can cut them either into rectangle pieces along the lines or in the shape of eggs along the edge.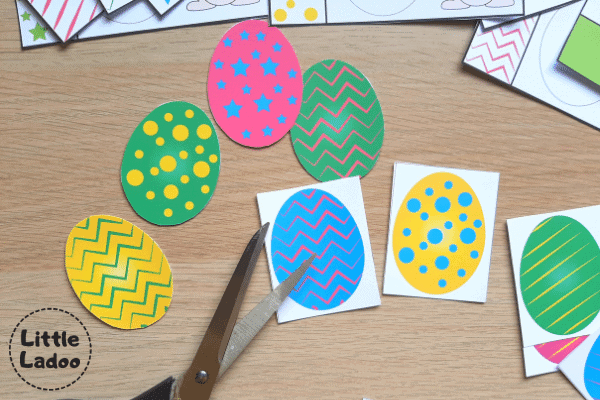 Make the Cards Durable
If you want them to be very long-lasting so that kids can play over and over again, I recommend laminating all the pieces after cutting.
Also, attach self-adhesive velcro dots on the laminated cards and the eggs' backside to make the matching activity enjoyable.
How to Play?
Arrange the cards and match eggs randomly on a table. Encourage your toddler to match the eggs to the card that have the same pattern and colour.
This is a challenging activity, particularly if you want to try this with your toddler.  In order to not overwhelm the child, you can also customise it with fewer matching sets. Once they master it, you can introduce more cards.
How to store the cards?
The most eco-friendly way to store these cards is In Letter envelopes. This has been our favourite way to organise printable busy bag activities and many other paper-based activities.
The printable also includes a label, which you can cut and stick to the envelope. This label will help you to find the activity without opening the envelope.
How to download the Easter Egg busy bag printable?
Please sign up here to receive an email with your free PDF directly in your inbox. 
This printable is available in our free printable library along with many other free resources. It is exclusive for subscribers and is password protected.
Sharing is caring. If you think your friends will find this printable useful, please share it through your favourite social media.
Related Easter Printable activities
Related Spring Activities and Printable books
Don't forget to pin this post to Pinterest to refer back when you need some inspiration. Just click on your favourite image and save it to your kid's craft Pinterest board.