All activities should be supervised by an adult. As an Amazon Associate, I earn from qualifying purchases. This post may contain affiliate links.
Get ready to add some colourful fun to your child's Easter season with our Easter Egg Busy Bag Printable!
These vibrant cards are sure to delight and challenge your child as they work to find the perfect matches and complete each puzzle.
This is Super Easy to prepare and the perfect way to develop critical thinking and perception skills. Download it now and get ready for a fun-filled Easter season!
Just like this Easter Egg Busy Bag Printable, we have a variety of amazing Easter-themed crafts and printables for kids. Don't miss out and be sure to check out all of our Easter Activities for kids today!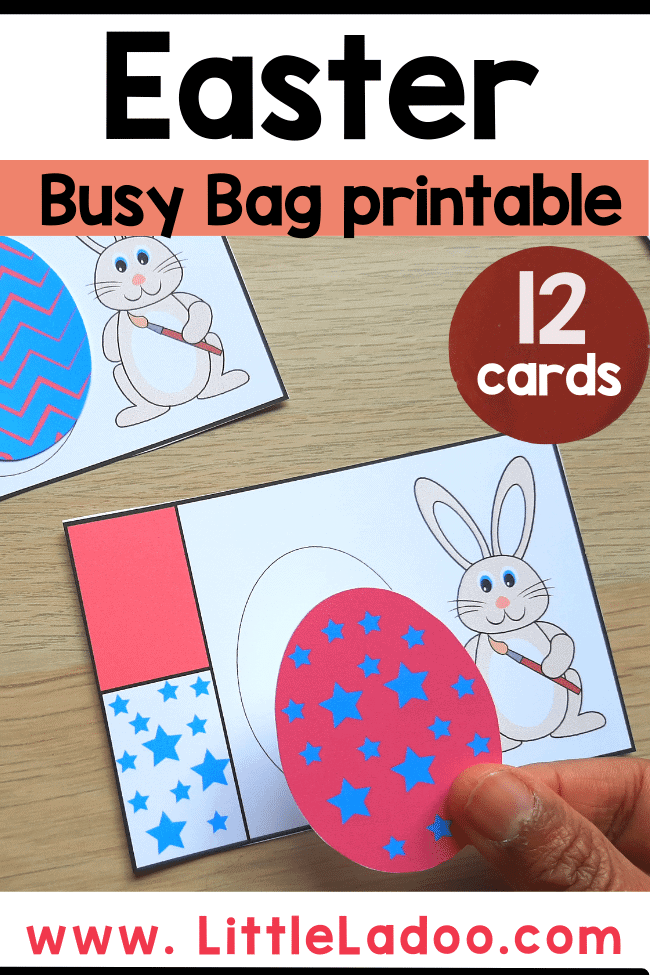 What is a Busy Bag?
A Busy Bag is a Portable and reusable Educational Activity designed to keep children Engaged and Entertained while also promoting learning and development.
Typically, busy bags include small games, puzzles, or other activities that are easy to prepare and use on the go.
At LittleLadoo, you can find many Busy book Printable that can be customised to meet a child's specific interests or developmental needs. Here are a few more Busy Bag Printables:
Busy bags are ideal for parents, caregivers, or educators who need a quick and easy activity to keep children busy, whether at home, on the go, or in a waiting room.
Easter Egg Busy Bag Printable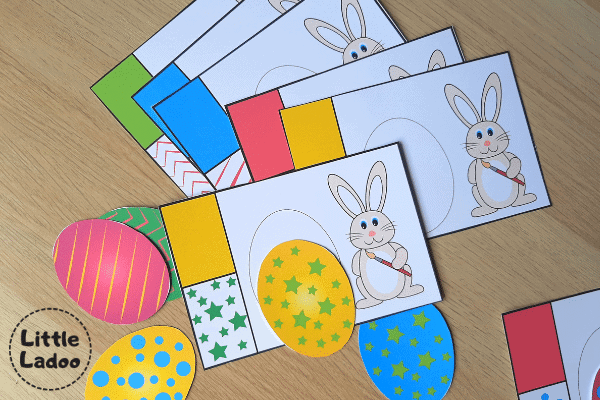 Our Easter Busy Bag Printable contains 12 base cards and 12 matching cards, challenging the child to observe the patterns and colours and match the correct egg to the base card.
This hands-on activity not only improves visual perception but also critical thinking, concentration, and hand grasp.
Preparation
Preparation for this Easter Busy Bag Printable is easy and straightforward. Here's what you need to do:
Download the printable PDF file.
Print all four pages using high-quality printer settings onto cardstock.
Cut out all 12 base cards along the edges.
Cut out the matching egg pieces. You can choose to cut them either into rectangular pieces along the lines or in the shape of eggs along the edge.
Once you've completed these steps, you'll have a fun and interactive Easter matching activity that will keep your child engaged and entertained!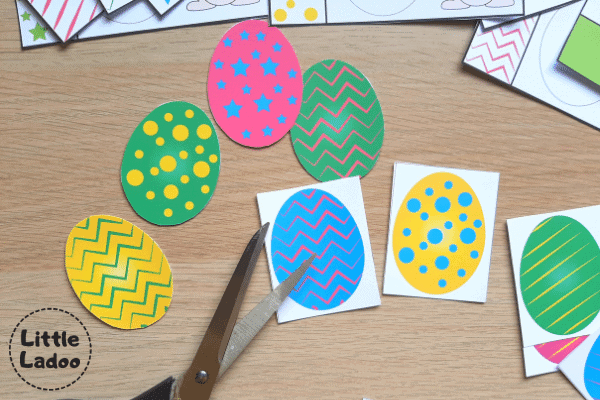 Make the Matching Cards Durable
To ensure the busy bag activity lasts through multiple plays, consider laminating the cards after cutting.
Additionally, attach self-adhesive Velcro dots on the laminated cards and the back of the eggs to make the matching experience more enjoyable and engaging for children.
How to Play the Egg Pattern Matching Game?
Spread out the cards and matching eggs on a table in a random order, and encourage your toddler to match the eggs to the cards that have the same pattern and colour.
Since this activity can be challenging, especially for toddlers, consider customizing it with fewer matching sets to avoid overwhelming your child.
Once they become proficient, gradually introduce more cards to keep the activity engaging and enjoyable.
How to Store the Easter Egg matching cards?
An eco-friendly and practical way to store your printable busy bag activity cards is to use letter envelopes. We love this method for organizing paper-based activities, including our Easter Egg Busy Bag Printable.
To make it even more convenient, our printable includes a label that you can cut out and stick onto the envelope.
This label will help you quickly find the activity you need without having to open every envelope.
Don't forget to pin this post to Pinterest to refer back to when you need ideas for your child. Just click on your favourite image and save it to your kid's educational Pinterest board.
Related Easter Printable Activities
More Spring Activities and Printable Books
Download the Easter Egg busy bag printable.
Please sign up here to receive an email with your free PDF directly in your inbox.