All activities should be supervised by an adult. As an Amazon Associate, I earn from qualifying purchases. This post may contain affiliate links.
Get ready to get crafty with the Easter Bunny! And don't worry – no expensive supplies are needed; we've got 10+ super fun Easter Bunny Printable templates totally free for you to print out and start crafting right away!
So hop on over today, it'll be a blast creating your own special projects this Easter.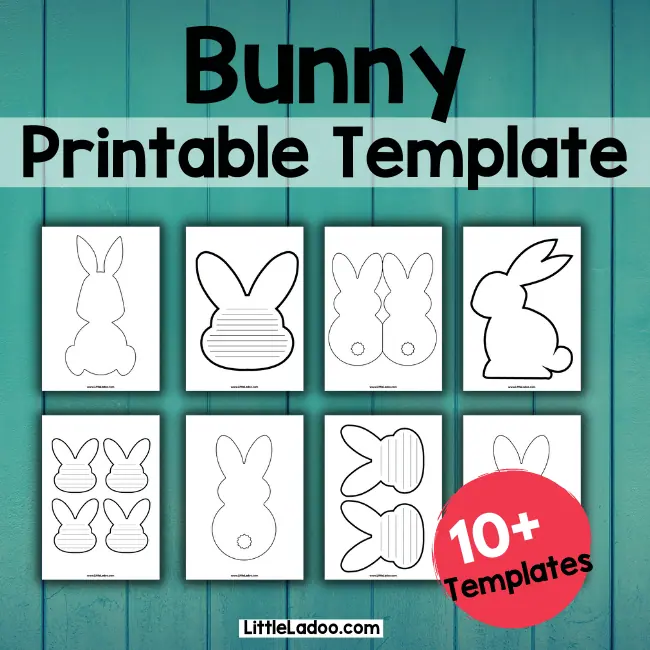 Easter Bunny Printable Template
These free printable bunny templates are Perfect for Preschool art projects or craft projects. Print them off to create various fun activities like painting, drawing, cutting out felt pieces and more.
Bunny Template in different styles
We have created four unique Easter Bunny templates – One Facing front, a side profile, one with an abstract profile and one with just the face.
Unleash your inner artist – choose which design you'd like today for your Easter Bunny Preschool Craft.
Easter Bunny card Template
These free bunny card templates are a hit among kids who enjoy creating one-of-a-kind cards.
Whether printed on coloured or white paper, children can easily make use of them by folding the sheet in half and cutting out the extra parts.
The end result is a lovely bunny-shaped card that they can personalize with their own unique touch. It's a fun and easy activity that kids will surely enjoy!
Easter Bunny Writing Template
The Easter Bunny Writing Template can be a fun and creative way for children to express their thoughts and ideas about Easter.
You can ask questions such as "What do you like about Easter?" or "What are your favourite Easter traditions?"
Or you can provide prompts or sentence starters such as "My favourite Easter memory is…"
This can be a great opportunity to strengthen their writing skills and encourage their creativity. You can display the finished Easter Bunny Writing Templates in your home or give them as gifts to family and friends.
So what are you waiting for? It's time to download and let your child unleash his or her inner creativity by turning these cute bunnies into colourful artwork!
Download the Bunny Template PDF
Download and print these 10+ Easter Bunny Printable Template. There are free Template PDF Files that will open in a new tab for you to download and print.
This PDF contains over 10 templates, but if you require a particular Bunny template that is not included, please leave a comment so that I can add it to the collection.
Want easy access to your favourite templates? Pin this post and never worry about digging through files again! Easily come back to print the files whenever you need.
You might also like 20+ Easter Egg Templates