All activities should be supervised by an adult. As an Amazon Associate, I earn from qualifying purchases. This post may contain affiliate links.
Easter is a great time of year to get creative and spend some quality time with the family. Make memories that last with your kids this Easter by trying out these 22 Fun and Engaging  Easter Activities for Kids!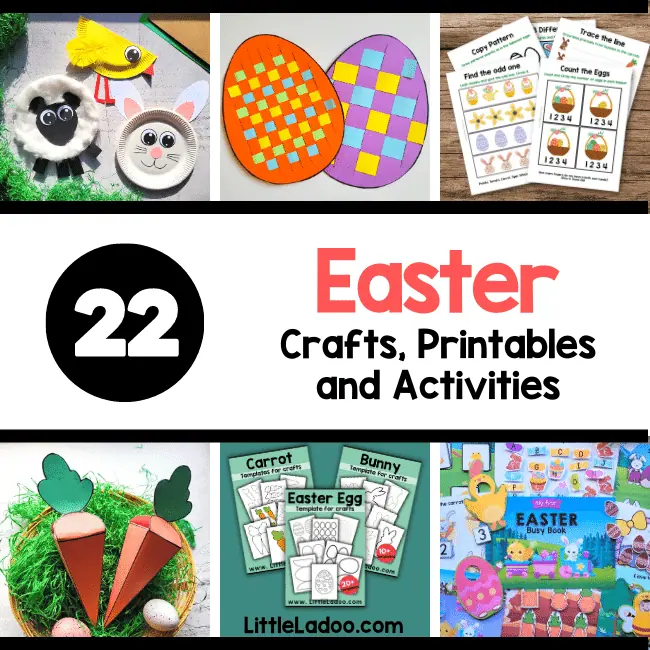 What is Easter?
Easter, also known as Resurrection Sunday, is a Holiday that celebrates the resurrection of Jesus Christ from the dead. It's one of the most important holidays in the Christian calendar.
How do people Celebrate Easter?
People celebrate Easter with various traditions such as attending church services, decorating eggs, exchanging gifts and having festive meals.
When do People Celebrate Easter?
Easter is traditionally celebrated on the First Sunday after the full moon that comes after the Spring equinox.
Easter date 2023
This 2023, Easter falls on 9 April.
Best Easter Activities for kids
I have listed 20+ Easter ideas for kids. This includes craft and Printable Activities.  To learn more about each idea, please click on the Hyperlinks and it will take you to the respective Blogs, where you will be able to Learn more and download the Free printables.
Let's Dive in.
Kids will love making these Easter Paper Plate Animals. They are perfect for the Holiday and Easy Decorations that kids can make themselves. Which one do you like the most?
With a simple template, scissors, glue, and a little bit of creativity your kids will be able to make their own 3D carrots in no time. Not only is this craft fun and easy but it also sharpens fine motor skills as well as hand-eye coordination.
Easter Craft Templates
Crafting is one of the most popular activities to do with the family during Easter, and thus we have 40+ Craft Templates for you! With these Easter craft templates, you can create different art and Craft Projects, decorations and unique Gifts.
All these are totally free! Enjoy.
Looking for a way to adorn your house for Easter? Then download our free Egg template to create beautiful and decorative Easter eggs with Symmetry painting. It will be super-easy for even toddlers!
Another fun way to make brilliant and beautiful Easter eggs is paper weaving. I have designed templates with varying degrees of complexity. Choose the template you like best and follow the directions to make colourful Eggs.
These Easter Egg line templates are great for kids to draw patterns or colour or do any creative projects. Check out our ideas using different mediums and download the free Lined egg templates.
These Sturdy felt puzzles are created with 2 layers of felt and a Form sheet in between. These are great for Toddlers for colour recognition and problem-solving skills. If you do not know sewing, We also have a Printable egg Puzzle which you can print, cut, laminate and make a  puzzle set.
If you're looking for an easy, fun project to do with your kids, this toilet paper roll chick craft is perfect.
Sometimes, Kids enjoy painting with different mediums besides brushes. Here are beautiful Carrot Art prints made with potato stamps.
Creating Cute Crafts with their own name on them can make kids feel proud and confident. Check out 4 adorable Easter name crafts. (Editable Printable) Which one would they choose to make?
Easter is the ideal time for kids to study Rabbits. If you are organizing a Rabbit unit study then these Facts about Rabbit will be useful!
These free Easter worksheets are perfect for Toddlers and preschoolers. The colouring pages are suitable for kids of all ages.
Connect with your kids and spend quality time together with these interesting Easter-themed would you rather questions tailored specifically for kids. Perfect for Easter get-togethers or just a lazy Sunday afternoon, these questions are sure to entertain your entire family.
This Challenging activity is excellent for preschoolers to develop their problem-solving skills. Includes 12 Base cards and 12 different eggs that kids need to match with the exact pattern and colour.
Easter Activity Placemat
Activity placemat is a fun and creative way to keep kids busy while they wait for food at a restaurant or a family gathering! This Easter, Let the Kids have fun at mealtime without resorting to screens or other electronics.
This includes 14 different Activities and colouring Tasks.
Busy books are one of the Best Tools that support kids' Early Development and Learning.  This Easter busy book had 11 Interactive Activities that focus on the non-religious traditions of the festival with bunnies and chicks. So much fun!
If you are looking for a Busy Book that isn't holiday specific, then this Spring Busy book is the perfect one to buy around the Easter holiday. We have Busy books for Each season. Check out the Seasons Busy Book Bundle to see Activities from Each Busy Book.
Easter Handprint Art offers a fun way for children to create fabulous Artwork of their handprints. Check out 8 Easter Handprint Art we made!
Easter Sensory Play
Sensory play activities are not only a fun way for kids to engage with their senses, but they can also help with developing fine motor skills, language skills, social skills, and cognitive skills. Here is an Easter-themed sensory Bin that we put together with things at home.
Easter Learning cards
Learn about the Tradition and the Story Behind the Celebration with this printable Learning Pack. It includes 8 Fact cards, 16 cards, Sorting labels and 12 Trivia Cards.
Easter Printables for Kids
Here are the links to purchase Easter printables from our shop! All these are Instant downloads.
A lot of Ideas! Make sure you pin this for Later – Just pin it!
So what are you waiting for? Let's start making plans for this Special holiday season – it's going to be so much fun!
We also have Easy Activity Ideas for other popular Holidays!  Don't forget to check out