All activities should be supervised by an adult. As an Amazon Associate, I earn from qualifying purchases. This post may contain affiliate links.
A DIY cardboard alphabet board made with everyday objects at home.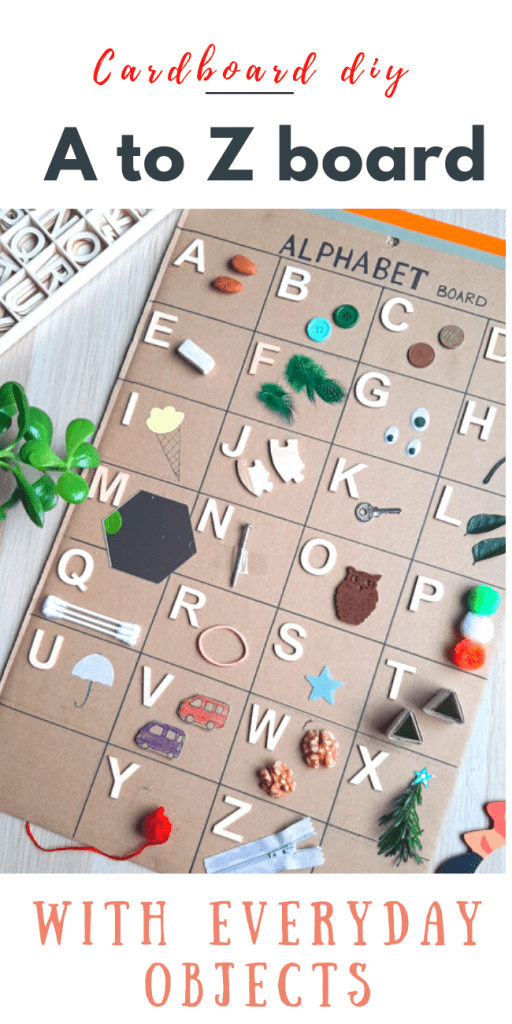 DIY cardboard alphabet board
This is our latest fun project that we did together as a family. It is an interesting and challenging activity where you sit together and brainstorm all the little things at home that start with the letters A-Z.
Actually, the initial intention was to make an alphabet poster in our play space. But it turned out into an interactive alphabet board.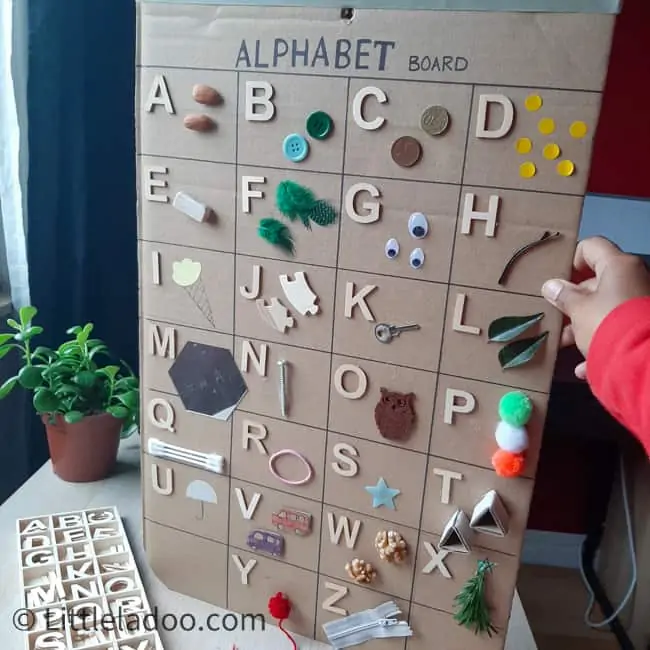 Scroll on to see Instruction and closeup pictures. In addition, I have included the list of all the items that we added on the board in case if you cannot predict from the pictures.
Things needed to make a DIY cardboard alphabet board
(Affiliate links included for convenience)
Big cardboard sheet (we used 40 x 70 cm)
Ruler
Small A-Z things at home
Hot Glue
Paper glue
How to DIY cardboard alphabet board
Begin by making a grid on the cardboard for 26 alphabets. To be precise, the grid should be big enough to hold the 2″ wooden alphabet as well as the small object that we find. Also, leave a small space above for the title.
Stick the wooden alphabet one each on the block with hot glue.
Once this is done, it's time to start the activity. Raid your craft supplies, kitchen, and fetch all the little things that you could think of for each alphabet.
Check out this blog for ideas, it has a list of 50 house items for each alphabet.
Now start placing them on the respective blocks and glue them. That's all! Time to put the board for display.
Now here are some close-up pictures and the list of things.
A- Almond
B- Button
C- Coin
D- Dots
E- Eraser
F- Feather
G- Googly Eyes
H- Hairpin
I- Icecream
J- Jigsaw puzzle pieces
K- Key
L- Leaf
M- Mirror
N- Nail
O- Owl
P – Pom pom
Q- Q-tips
R – Rubberband, ring
S- Star
T- Triangle
U- Umbrella
V- Van
W- Walnut
X- Xmas tree
Y- Yarn
Z- zip
For some letters like C, S, P, and H we could find a lot of small things but for letters U, V, I, and X we couldn't find even one. So I drew a picture of those letters.
The end product was fantastic and unique. We have put it for display near our blackboard.
Try this at your home with your child. You will love it!
Here is another similar board that we made for numbers
We hope you like these ideas! Don't forget to pin this for later!
You might also like the following DIY Cardboard projects