All activities should be supervised by an adult. As an Amazon Associate, I earn from qualifying purchases. This post may contain affiliate links.
Learn how to make a Sturdy Bookshelf from Cardboard that can hold up to 40 books
Looking for a Front-facing bookshelf for your little bookworm? Check out our DIY Cardboard Bookshelf, which is easy to make and is as good as a wooden bookshelf. 
A firm and visually appealing Wooden bookshelf may cost you anywhere between 100$ and 200$. But if you don't want to spend on it and use cardboard at home, this post is for you.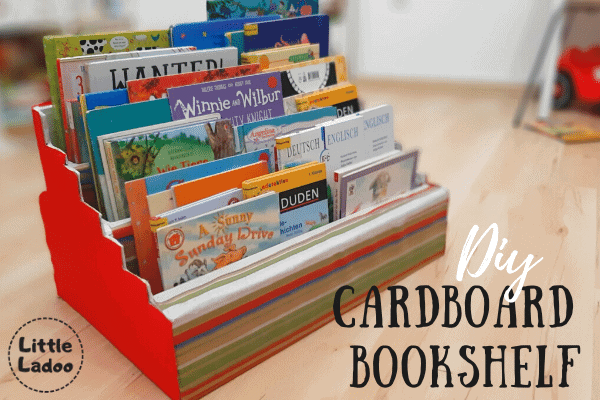 This post contains affiliate links, meaning that I will be compensated if you click through and take action at no additional cost. As an Amazon Associate, I earn from qualifying purchases.
Cardboard Bookshelf
It has been 1.5 years since I made this bookcase, and my daughter picks and reads books from it almost every day.  We have shifted it many times from the Bedroom to the Living and Vice versa. (Note that we carry the bookcase along with the books)
It is still Super-Cool, and nothing came off or broke from it. It hasn't sagged and has had no issues so far.  We love it so much!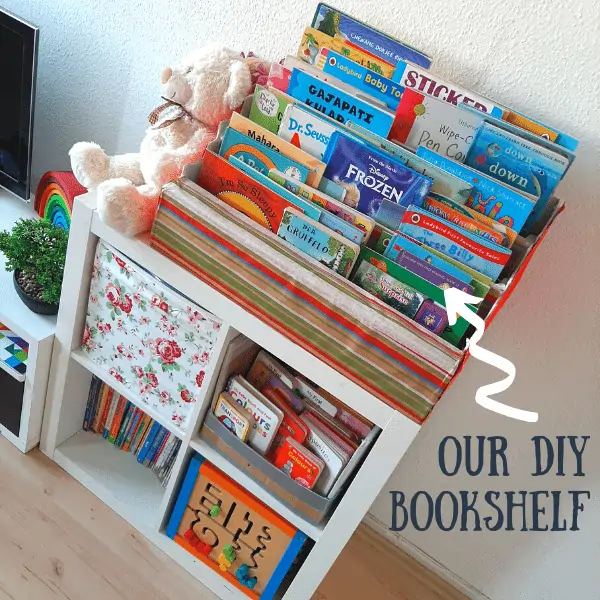 Just look at a recent picture of our Bookshelf where we have the DIY bookshelf over an IKEA Kallax shelf. 
Read on to learn how to make a Display Bookshelf from Cardboard from scratch in an Easy Step-by-Step Procedure. Feel free to tweak this design according to the cardboard sizes that you have at home. 
What is a Front-Facing bookshelf?
A Front-Facing bookshelf is nothing but a bookshelf that displays the front covers of the books. These bookshelves are indispensable for young children and are highly recommended for 0 to 3-year-olds by Montessori practitioners. 
Why do Kids need a bookshelf like this? 
The main advantage of having a display bookshelf is that it is easy to organise the books and easily access them. The child can quickly see what is available and choose what they need to read without even taking the books from the shelf. 
This really means less mess in the house. Moreover, This helps the kid to handle the books properly and stay organised. A must-have book organiser if your child is a book lover and reads many books every day. 
Learn more: Importance of Front-facing Bookshelves
How to Make a Cardboard Bookshelf
Anyone can make this easy bookshelf with the instruction given here. You might need around 4 hours to make this awesome bookcase. 
Believe me; this cardboard shelf is equally good as a Wooden display shelf because it is very sturdy and heavy and easily holds up to 40 big books. 
The sturdiness is mainly due to the choice of cardboard and the techniques used. And now I am going to show you how to make it in just a few steps. 
Things needed:
The main material needed is Cardboard and Old Newspapers. You will need a few more supplies and tools to make the bookshelf. 
Hot Glue gun (You need a lot of glue sticks too)
Thick pattern papers(optional)
Watch Video Tutorial
This video shows how the full making process of the bookshelf, from cutting the cardboard, preparing the base, adding the shelf and finally, the finishing touches. 
The cardboard used here is very thick (it is at least 0.8 cm). And this is the main reason for this bookcase's stability. If you have a thin corrugated one like an Amazon delivery box, you can use multiple cardboard layers instead. 
Step-by-step instruction
I hope the video helped you to visualize all the steps involved. Furthermore, the following instructions, along with tips and tricks, will be convenient when you are actually planning to make one. 
Before I go into the details, you need to understand the 3 main structures of the bookshelf
A cardboard base
3 cardboard shelf
2 boxes to elevate the shelves
In the above image (a progress pic), I have given the approximate dimension of my bookcase. However, you can design your own sizes based on the cardboard that is available.
Try to set dimensions and make a rough sketch of your design before starting the project. 
Step 1: Cut the cardboard pieces
​Choosing the right cardboard can reduce a lot of work. Fetch a few big-sized cardboard, preferably cuboid ones like these, and cut them into desired forms/sizes with a cutter. You need a Base ( 60 x 40 x 15 cm), 3 shelves ( 60 x 20 x 10) and 2 base boxes to raise the shelf levels. 
Now gather some old newspapers and crush them all. You might need a big heap to stuff them up inside the base so that they can be sturdy. 
Step 2: Preparing the 3-level base
The base has to be a 3 step-like structure. Therefore, we are going to fix 2 cuboid boxes over the huge cardboard box we have.
Use a hot-Glue gun to fix this cuboid box on the cardboard. Don't forget to leave a small gap to insert the crushed papers.
After packing them tightly with crushed papers, use duct tape to seal the gap. In the same way, add another cuboid structure filled with crushed paper. Note that this should be at least 7cm in height than the previous one.  
Step 3: Adding the Shelves on the base
Subsequently, add the 3 shelves on the base that we made. In other words, one shelf at each level. Use a generous amount of hot glue uniformly throughout the surface.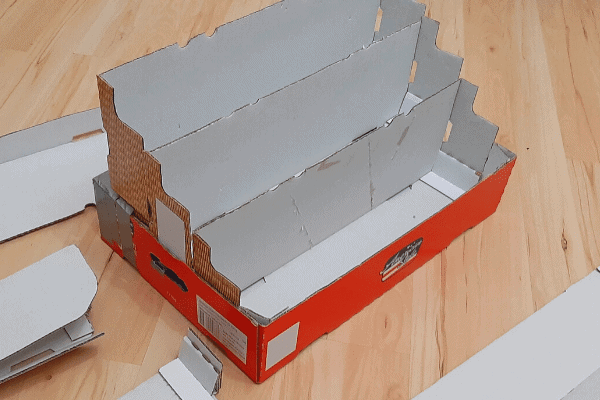 Once this is done, we have to strengthen the 4 vertical walls. In other words, Thicken the 4 vertical cardboard walls (refer to the image above)
This is because the 4 vertical walls will be subjected to many lateral forces when books are placed. Therefore we are going to add a few pieces of cardboard to these panels using a hot glue gun.
While you complete this step, you know your bookshelf is strong enough to hold all the books.
Step 4: Covering the structure (Optional)
Now all the walls are solid, and the bookcase is almost ready. You can use it as it is or add finishes. We have used thick paper to cover the shelf.
Other ways to finish are to use a large vinyl sticker sheet or paint with acrylic paint. 
It is done! Pretty easy, isn't it?? And definitely costs almost nothing.
 This one turned out to be an eye-catcher in our room, and my kid loves to pick up, read, and re-sort the books by herself.
Did this post inspire you to make one for your child? Let me know in the comments section. 
Do you know someone who might find this useful? Please share it
A quick summary of the whole process
Make a 3-level cardboard base
Add L-shaped (shelf-like) cardboard on each level
Make the vertical panels thicker
And finally, cover it up with paper.
Pin this Cardboard Bookshelf
Don't forget to save this DIY cardboard bookshelf for later! Be sure you are following  Little Ladoo on Pinterest.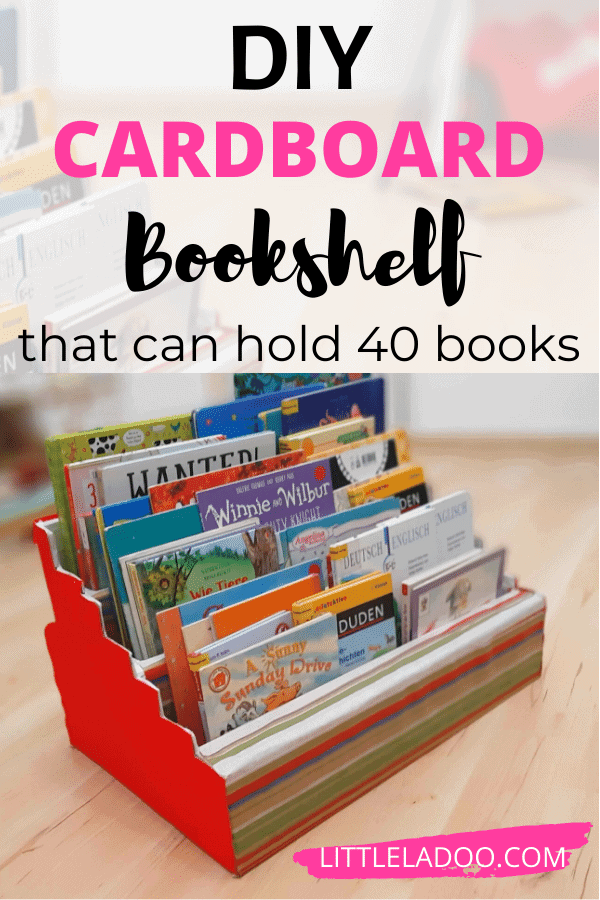 Related Cardboard DIYs for kids
If you are not a DIY person, But still want to get one Bookshelf like this for your child, Check out some of my amazon picks.
The selection includes both Wooden bookshelves as well as a Sling bookshelf (Which is an economical option that serves the purpose) 
So what have you decided? Would you DIY your kid's bookshelf or get one of these picks? 
Thank you for reading through this post!!
We have many Cardboard DIY ideas in the blog. If you want to make a simple maze for your Toddlers check out this Cardboard Maze. 
You might also like the Kitchen made with a Shoebox.