All activities should be supervised by an adult. As an Amazon Associate, I earn from qualifying purchases. This post may contain affiliate links.
Are you looking for Printable materials to teach your kids the 9 Forms of Durga? Look no further; This Montessori-inspired circle puzzle activity and fact cards will help you have fun while learning about Durga this festive season.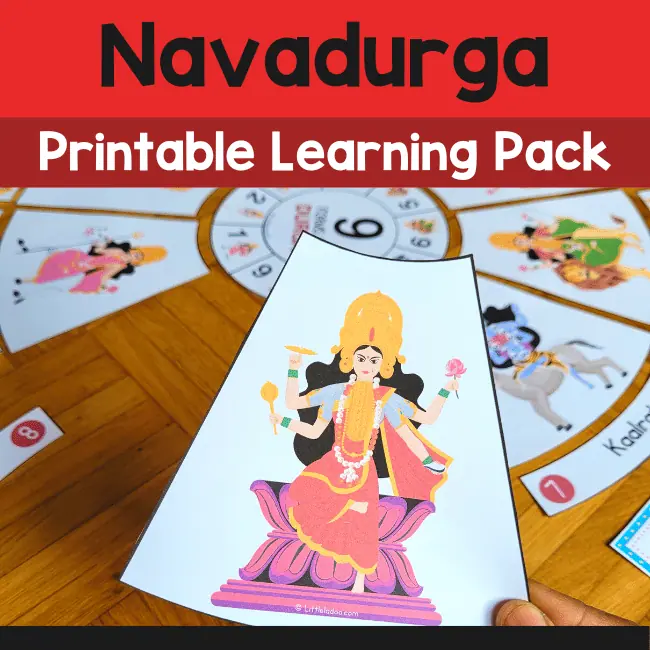 It's Navarathri time, and we enjoy engaging in festival-related activities. We recently did activities centred around Ganesha Chaturthi and Krishna themes, and my daughter is still enthusiastic about the facts and stories related to these two deities.
Therefore, I intend to create some materials for Navarathri festivities too.
What is Navrathri?
Navrathri is a Popular Hindu festival that is celebrated for 9/10 Days, during September/ October. Navrathri is celebrated differently in various parts of India.  But most commonly, People worship the Goddess Navadurga.
What is Navadurga?
Nava Means Nine; The nine forms of Durga are known as Navadurga. Each of the nine forms depicts a stage in the life of Goddess Parvati. Parvathi, as Durga, is also worshipped as the slayer of the demons, Mahisasura, Shumbha, and Nishumbha.
What are the Nine forms of Durga?
Shailaputri
Brahmacharini
Chandraghanta
Kushmanda
Skandamata
Katyayani
Kaalratri
Mahagauri
Siddhidatri
Story of the 9 Forms of Durga
Here is the Brief story of all 9 Manifestations of Durga, the 9 phases of Parvathi's life. The same is presented in the fact cards, along with the Physical characteristics of the form.
Sati, The wife of Lord Shiva, was reborn as Shilaputri, the daughter of The king of mountains. She meditated for years to please Lord Shiva and is known as Bramacharini. Later, Shiva and Parvathi decided to get married, and she transformed herself into a fierce form called Chandraghanda.
After marriage, Lord Shiva makes Parvathi understand that she is not a human but the Goddess Adi para shakti. So, this phase of Discovery is Known as Kushmanda, the creator of the universe. She becomes the mother of Lord Skanda and is known as Skandamata.
When God requested her to Destroy the demon Mahisarura, she took the form of Katyayani and killed the buffalo demon. She became the dark-skinned Kaalratri and killed Nisumba and other demons. Later, She immersed herself in the river Mansorvrar and transformed herself into Mahagauri. Siddhidatri is the Supreme for of Parvathi when she gains Supernatural powers and becomes a Goddess.
How to teach kids the nine forms of Durga?
Each day of Navarathri is dedicated to one Goddess. And it will be perfect for teaching about one form every day with stories and facts.
Use these image cards to show the form of Durga and read out the facts of her manifestation. The fact cards have information about how she looks, what she carries in her arms, and her Vahana. It also has a brief story of the manifestation.
This Fun circle Puzzle activity is a Hands-on way to Learn the 9 Forms of Durga. Ideally suitable for kids above four years, who can read.
Preparation
Print them in Cardstock and cut the pieces out. You will get 10 fact cards, 9 Image cards, 9 Name cards and a Circle. You can laminate them for durability, but I do not recommend them if your child is 4+ years. Printing on thick paper is more than enough to last a few times.
How do you Store these cards? My personal choice would be Letter Envelopes, and a B5 Size Envelop is perfect for storing these cards. The printable also has a label, which helps you to organise.
How to use the 9 forms of Durga printable?
This is a Montessori-inspired learning pack, and there are many creative ways to play with the printables; I listed a few ones here.
Place the circle in the Center and let the Kid arrange the 9 Forms around the Circle, Matching the big image to the small print in the Center circle.
Learn the Name of the Forms by Matching the Images in the Text cutout.
Use the Fact cards to learn about each form of Durga.
Learn about one form at a time with an Image card, Name card and Fact card.
Use the poster on your child's learning board.
Sort the Forms by Vahana
Play the "I spy" game. Ex: I spy Durga with 10 Hands, I spy Durga that has Sword, etc.
Love these activities? You can get the 9 Forms of Durga Printable pack here.
We totally loved learning about Durga with these printables. Let me know what you think of this pack.
Additionally, you can get the Picture book Navadurga, which is an excellent book for kids above 6+ to learn the stories of Durga. I have created the facts based on this book.
If you love this content, please share this with your family and friends. Thank you! You can also pin this image for later.
Related articles